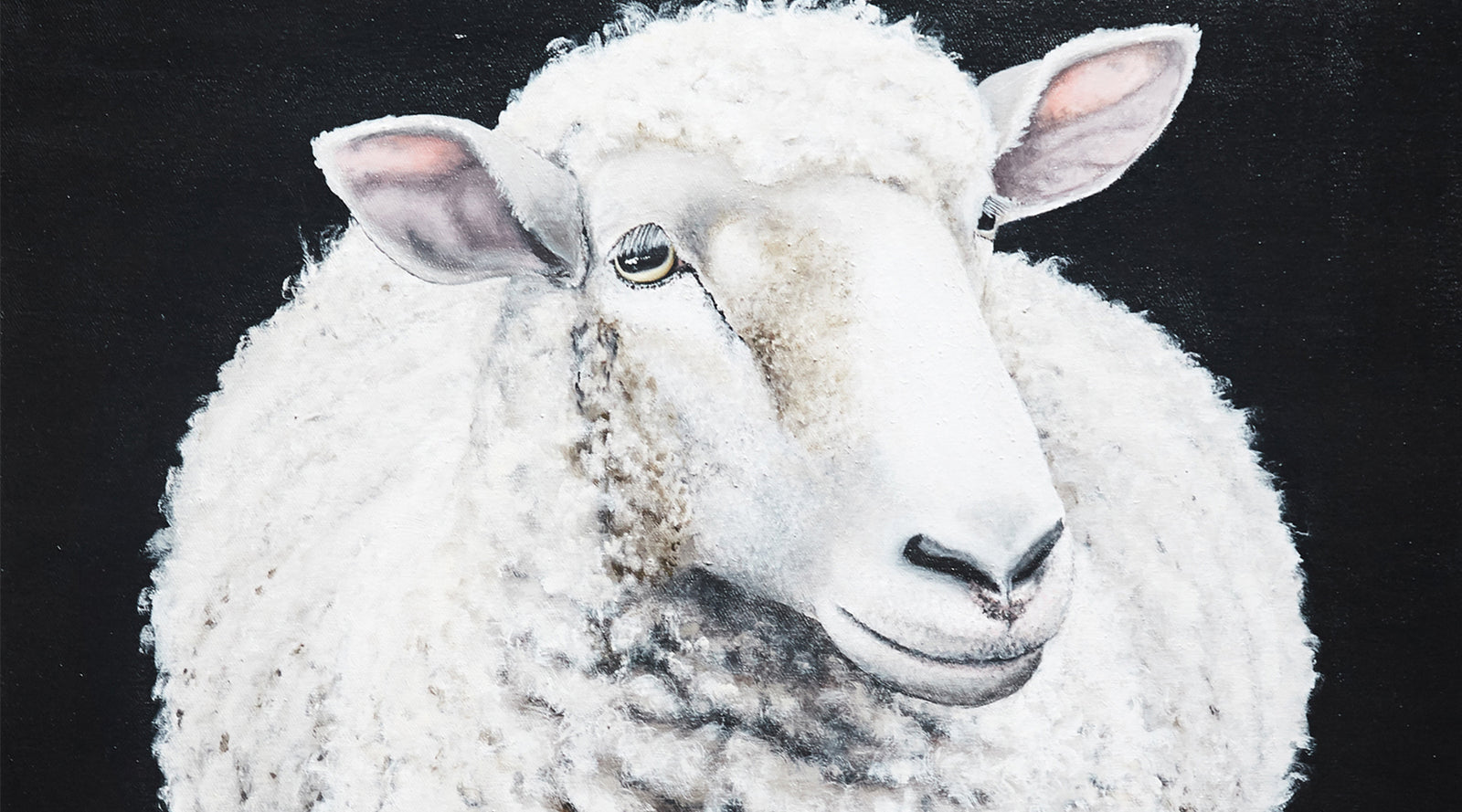 Cable X Sophie MacKinnon Collaboration
In celebration of Wool Week 2020, we have partnered with
local artist Sophie MacKinnon to launch our first ever
Australian Creator Series.
The campaign celebrates the foundations of Cable Melbourne - the humble sheep.
To support our local community and creators
in these trying times, we have come together to create a
series of custom paintings, each one as unique and
individual as the sheep featured, to raise funds for the
Country Women's Association, who provide support to women
in need throughout Australia.
Each Cable store will have a different Sophie MacKinnon painting on display until June 30th 2020.
Click here to view store locations
PAINTING NAMES AND LOCATIONS
1. 'Olive and baby Adelaide'

SOLD
Location: Hyde Park boutique
Size: 77cm
Baby Adelaide can do no wrong in her Mum's eyes. If only Mum knew...
2. 'Petunia'
SOLD

Location:

Carlton

boutique
Size: 62cm
Petunia has been told she's got a resting bitch face but she just can't see it.

3. 'Lola'

SOLD
Location: Hawthorn boutique
Size: 77cm
Don't bother telling Lola what to do, guaranteed she'll never listen to you
4. 'Walt'

SOLD
Location: Mosman boutique
Size: 60cm
Walt has had a long and tiring day, come to think of it Walt's had a long and tiring life.
5. 'Shirley'

SOLD
Location: Bowral boutique
Size: 70cm
Shirley's stuck in that awkward moment where she cannot for the life of her remember how she knows you but you've been chatting too long to ask so she's just politely nodding in agreement.

6. 'Normie'

SOLD
Location: Manuka boutique
Size: 62cm
Normie is a leader. He doesn't always get it right but he's just trying his hardest to keep his flock safe.
7. 'Herman'

SOLD
Location: St. Ives boutique
Size: 62cm
Don't tell Herman otherwise, he knows if you lift yourself up and just get on with it then things will eventually fall into place.

8. 'Floss and baby Brian'

SOLD
Location: Armadale boutique
Size: 77cm
Floss knows that her little man will be stuck to her side for only a short time so she's making the most of every moment with him.

9. 'Maisie'

SOLD
Location: Brighton boutique
Size: 70cm
Maisie is aware that the world is a bit strange at the moment. She's given up trying to make sense of it all so she's decided to keep things simple and focus on being kind and caring to everyone around her.
ABOUT THE ARTIST
Sophie MacKinnon is an emerging Australian artist
who works with acrylics to create individual
and character-filled animal portraits and still-lifes.
Drawing on her life-long love of animals, Sophie imagines
an identity for each of her subjects which she refers to
whilst painting. Each animal brings a challenge of
capturing this character through the texture
and colour of their wool, fur or skin which she does
using a variety of brush strokes, fine detail and earthy tones.
ABOUT THE CHARITY
The Country Women's Association is the largest women's
organisation in Australia and aims to improve conditions
for country women and children.
They reach that aim in various ways including
lobbying for change, helping the local community,
creating a network of support and meeting together
in towns and cities.