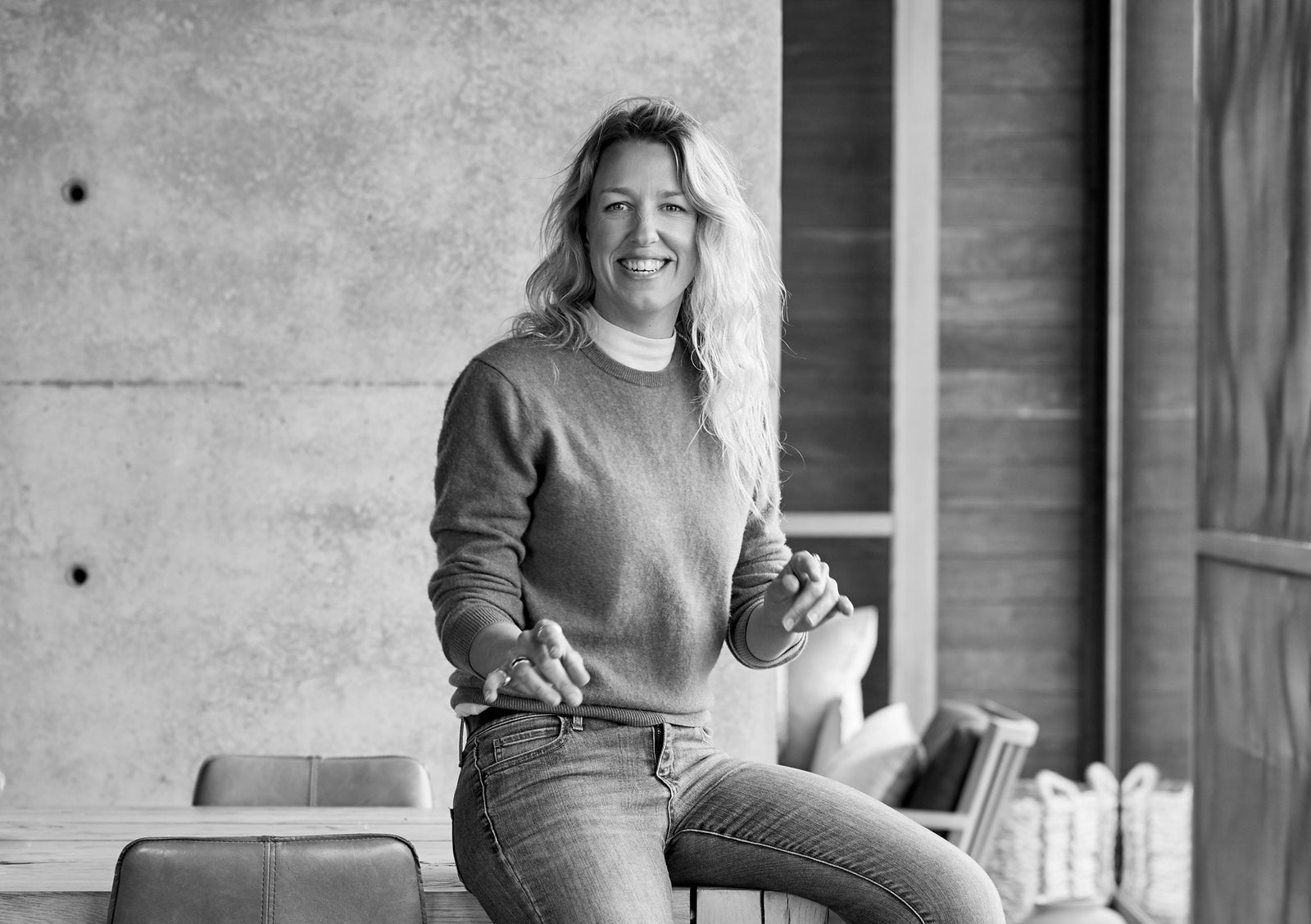 International Women's Day | 5 Women Who Inspire Us
In celebration of International Women's Day, we are looking to the women who inspire us each and every day. They inspire us to take risks, to be creative and adventurous, to push ourselves and to reach for the stars.
We sat down with 5 inspirational women - who are not only leaders in their fields but also are friends of Cable Melbourne - to find out who and what inspires them.


Ursula van Schoonhoven
Co-Owner, House of Orange
@houseoforange
Tell us about your business
We are retailers/owner operators and designers of own made-to-order furniture brand House of Orange, and wholesalers of a large Dutch homewares brand called HKliving with an Australian wide network of stockists. We have three showrooms and manufacture in Melbourne. Our aesthetic is Nordic basic design mixed with a curated edge. And our story and background is Dutch.

Tell us about how your career journey began
It began originally in Amsterdam where I was living and met Hans my husband and co-owner and together we ran an auction business and retail showroom specialising in a mix of vintage and new product. The idea morphed into House of Orange when we returned to Melbourne and started up in the back alleyway of Armadale in an old upholsters warehouse. That was nearly 14 years ago.

Is there a woman in your life that inspires you?
Yes, her name is Tiny (@tinystories.nl). She is from Holland and is an illustrator and painter - in fact her main subject is women. She has a beautiful demeanour and an outlook on life that celebrates the details in the tiniest things and in nature and in women. She makes me stop and be mindful and she brings out the best in people always for this reason. It is increasingly rare. I admire her for this.


Why do you think it's important to back your sisters this International Women's Day?
We are still in the midst of creating a new language - I have two daughters who are growing up more in a gender neutral language world but it is also at the risk of taking for granted that we have evolved when we still have a way to go and need to keep acknowledging and celebrating and showing solidarity across culture and race.

What is your favourite outfit from Autumn20?
My favourite season is Autumn and I love a beautiful pea coat vibe with a sweater. So my pick would have to be the Harrison Wool Coat in Forest and the Cashwool V-Neck Jumper in Moss Green, paired back with the Steph Wax Pant.
_________________________________________________________

Kate Walker


Founder and Director - KWD
@katewalker_design

Tell us about your business
KWD developed from a desire to provide innovative, streamlined and worry-free design solutions for our clients. We began as a supply-only operation for beautiful and functional hard finishes and have evolved into a full end-to-end design service. We have adapted to suit demand and we have been nimble in responding to market needs, filling a gap and offering a full design solution, not only for homeowners but for builders and developers as well.
The KWD team can facilitate every facet of the interior and exterior design of a new build or renovation. We specify, source and supply solutions for all hard finish requirements, and we have the experience, the contacts and the buying power to get any project completed with exceptional results – smoothly and efficiently.
We launched our sister brand, KWD & Co. last year to offer a curated and considered collection of hard finishes and to provide a streamlined design solution for clients whose budget won't stretch to a custom design service.

Tell us about how your career journey began
I grew up in an entrepreneurial family and my mother is a talented designer, so I was always creative and had a passion for design. I worked in the family business for over 15 years learning about hard finishes from the ground up and getting a really deep understanding of function and form. Progressing in the company took me away from design to a more managerial role, and I really missed the creative aspect. Launching KWD and establishing my own design studio enabled me to utilise my business acumen whilst being creative at the same time.

Is there a woman in your life that inspires you?
My 12 year old daughter Jemima is the young woman in my life who inspires me. She is everything I could wish for. She writes me letters that astound me with their kindness and support. As a working parent I always feel like I'm not giving enough, but when I read her words that she writes to me and listen to what she has to say on a daily basis, I know I'm doing a good job. She is intrinsically and instinctively a good and wise person. In her short life she has been through her own sense of trauma and has had to be adaptable to change, and she has dealt with it all with such grace at such a young age. She is a self-sufficient soul and is so protective of me, and she displays the demeanour of someone much older than her years. Every day she asks me how I am and how my day was, which is the antithesis of the egocentric behaviour young people often display. She has an innate sense of style and helps me put my outfits together, and she is also very self-aware and conscious of having a positive body image. When I doubt myself as I often do, she gives me the confidence to walk out the door with my head held high. She inspires me to work hard and encourages me in all I do because she believes in me.


Why do you think it's important to back your sisters this International Women's Day?
It's always important to polish each other's crowns, to encourage other women and acknowledge the support network they have behind them. Seeing women succeed is so wonderful and empowering. Women can be such huge critics and we are often our own worst enemies, constantly judging ourselves. We have an internal dialogue that we're not doing enough, we're not successful enough, not skinny enough, not trying hard enough, not being there enough for our children. So to be criticised by others for these things can be a tipping point that makes you fall. There is no room for envy. I get so much inspiration from what women are achieving in business and in life, and I applaud them for it. Being a single mother running my own business, I know that appearances often don't reflect reality. I certainly know the energy, effort and self confidence it takes for me to get up and face the world every day, so I understand what other women go through. You never know what battles others are facing, so be kind, and have each other's back.

What is your favourite outfit from Autumn20?
I love natural materials, so the Xander Croc-Embossed Leather Jacket is stunning. Black never dates and it's such a versatile style. I can wear it to meetings on site then to a studio consult and then out to a corporate or relaxed dinner in the evening. It's a piece that I will wear throughout the year, over dresses or shirts in spring and summer and over knits in autumn and winter. As a casual look or a more formal style the cost per wear makes it one of the most cost-effective and valuable pieces in my wardrobe.
_________________________________________________________
Tell us about your business
I am privileged to be the Executive Director of The Country Women's Association of Victoria Inc. (CWA of Vic) I have held this position for 3 years. The CWA of Victoria celebrates its 92nd Birthday this year and is the largest women's organisation in Victoria with some 5,000 members in over 300 branches in rural, regional and metropolitan communities across Victoria. The CWA of Victoria is a Not for Profit Organisation.
The CWA of Victoria provides support and assistance to women, children and their families, especially those most disadvantaged and vulnerable. The CWA of Victoria advocates to improve the health, wellbeing and care of women, children and their families, especially those most disadvantaged.
We also raise and distribute emergency finds to those most at risk and vulnerable. Current examples include those impacted by drought and fire.

Tell us about how your career journey began
An interesting opportunity to reflect! My career began as a Child Protection Worker and since then some 3 decades ago I have worked in Government and the NFP sector always with a focus on improving the health and wellbeing and safety of women, children and families at the local community, State, National and International level. My career has focused on providing direct support, leading legislative changes and championing equality

Is there a woman in your life that inspires you?
I am very fortunate to have 2 women in my life that inspire me – my two daughters! They inspire and challenge me to see things through their eyes; those of the generations to come. They ask the why and why not questions and seek out the answers. They are clear about what they are passionate about and strive to achieve it. They still love spending time with us all together!


Why do you think it's important to back your sisters this International Women's Day?
It is a great opportunity to celebrate what we have achieved and reflect on how different things are now for women compared to just 30 years ago. I would like to see our younger sisters take the lead and have conversations with their mothers, grandmothers and friends about what has changed as the younger generation may think that women have always had what we have now. Do they know maternity leave only started in 1979? That currently the gender pay difference is 14%? That women retire with 47% less superannuation than men?

What is your favourite outfit from Autumn20?
Harrison Wool Coat in Forest with Faux Fur Collar. These colours are so warm and inviting as Melbourne starts its winter. Our offices are very chilly and whilst the coat will come off during the day (maybe) the Faux Fur will stay on! The colours remind me of the environment which we are all keen to see regenerate after drought and fires.
_________________________________________________________
Anna McKay
Store Manager - Cable Melbourne
Tell us about your business/ job
I am the Store Manager of the Cable boutiques in Armadale and Hawthorn. Armadale is our original store and we have a lovely and loyal customer base. We opened Hawthorn last year and it's been a pleasure to see the brand further expand and develop. I love working with such a quality product and with an enthusiastic and committed team of staff.

Tell us about how your career journey began
My career journey began upon completion of my Bachelor of Arts degree (French and Psychology major) and subsequent Post Graduate studies in Marketing. Following various roles with Myer, Trent Nathan and Jane Lamerton, I relocated to London. I started my employment at department store House of Fraser as a Product Manager but always had a desire to work in a buying role. After moving across to Harrods as a Sales Manager I later transferred to an Assistant Buyer role in Accessories. I was subsequently promoted to Fashion Buyer and spent 5 fabulous years at Harrods travelling the globe, buying luxury brands and meeting great people. My husband's career then took us on to Singapore for many years and we recently relocated back to Melbourne.

Is there a woman in your life that inspires you?
My great grandmother Isabel Tweddle is a woman that continues to inspire me, despite her no longer being with us. She was an Australian painter in the 1920s and 30s and I admire her independence, passion and sense of adventure. She traveled and exhibited in far flung places and became a well known and established artist with works featured in the National Gallery Victoria. My daughter in turn seems to have inherited her creative flair which brings us both much joy.

Why do you think it's important to back your sisters this International Women's Day?
This International Women's Day I am keen to celebrate female empowerment. As a mother, sister and daughter it is exciting to witness change and progress. The next generation are being strongly encouraged to embrace science, technology and maths, to enter the realms of traditional male sports and fight against gender discrimination and inequality.


What is your favourite outfit from AW20 collection?
My favourite outfit from the AW collection is the Cashmere Crew Jumper in Black Lurex and Metallic Pleat Skirt in Silver Lurex - classic black with a modern twist and a hint of shimmer to take you from day to night.
_____________________________________________________________
Tell us about your business
I am a fashion and advertising photographer driven by the joy of working alongside passionate creatives to create beautiful work through a unified vision. We mostly shoot campaigns and now and then I get to do creative work for magazines.

Tell us about how your career journey began
As the shy countryside girl I was growing up in the Swedish archipelago I was terrified to start high school in the city the year I was about to turn 13. My grandparents took me on a road trip that summer to help relieve the stress. The first morning, at dawn, we pulled over by a river covered in mist with little islands in the mirror like water looking like cut outs in silhouette. I thought it looked spectacular and borrowed my grandfather's pocket camera to capture the moment. "A waste of film" he said, despite being one of the most generous people I know. Landscapes in photographs never looked the part he thought. However, when I got the prints a couple of weeks later, fluoro stamp in the corner and all, I still thought it was one of the most beautiful things I'd ever seen. I got my father's old camera that year for Christmas and the rest, as they say, is history.

Is there a woman in your life that inspires you?
There are so many women in my life that I look up to and feel blessed to have in my life; Sara, my childhood friend and partner in crime who even when she is terrified says YES to life and the opportunities that come her way.
My mother who is love personified and who I know would jump in front of a train for me, yet not once has given me any guilt for going to the other side of the world to chase my dream.
Shari Bromley, Erin O'Brien and Erin Thompson who are part of this creative journey and who are all loving, strong, independent and honest women and who are amazing role models for their daughters.
Rebecca Amos and Cable's own Georgie Austin who somehow manage to run companies, look after big households, be present with their children and have a social life…. they do it so well!
And also, Tiki Menegola and all other wonderful girlfriends out there, mine and yours, who live hectic lives, yet take the time to check in on and be there for their fiends and their loved ones.


Why do you think it's important to back your sisters this International Women's Day?
I think it is important that we do it every day and I feel that we are. It is an exciting time to be alive.

What is your favourite outfit from Autumn20?
The Harrison Wool Coat. It is a stylish, elegant and timeless piece that I know I will be able to wear for years to come. And love the colour!
________________________________________________________