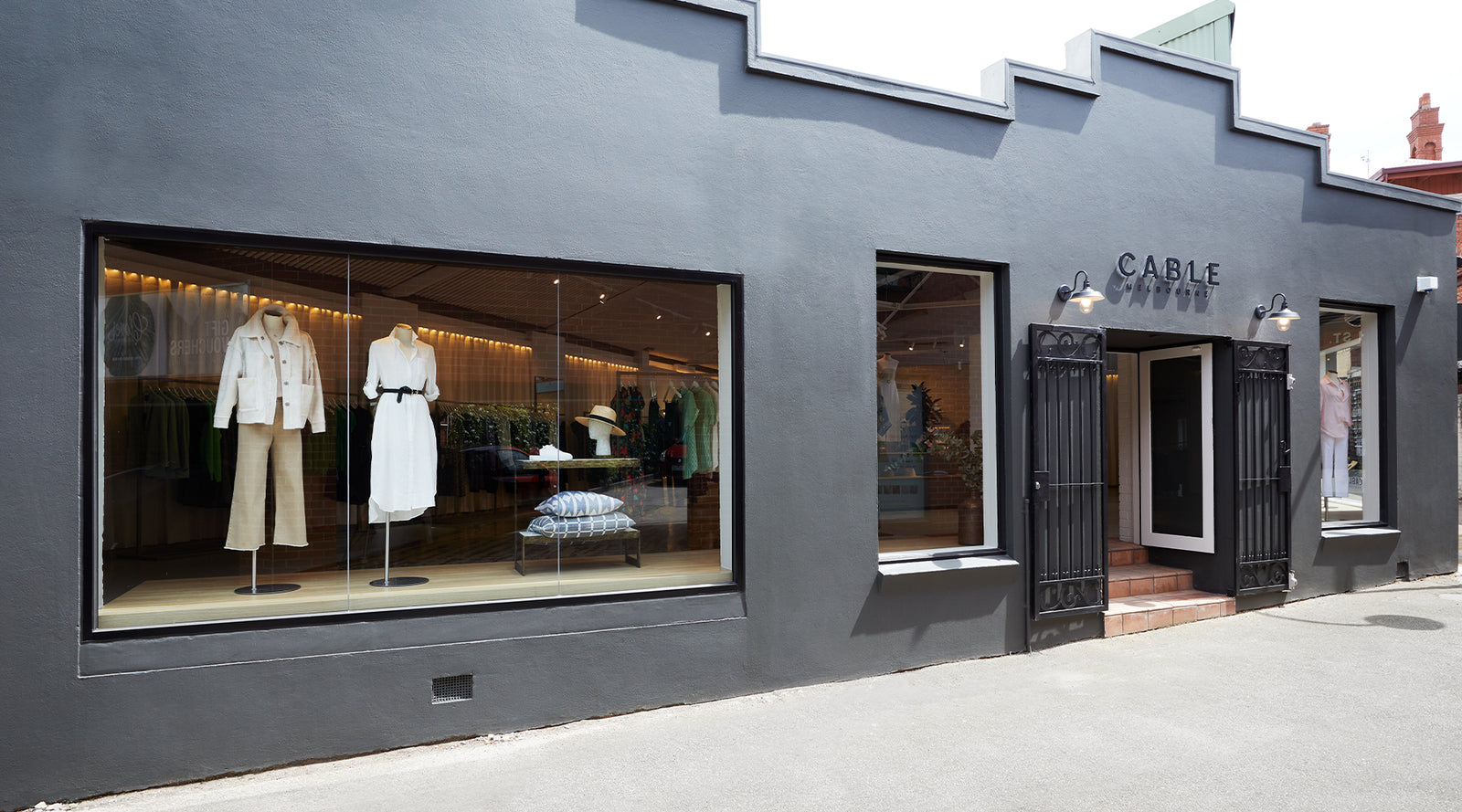 CABLE MELBOURNE was busy during Melbourne's 6th lockdown…
With 11 retail stores already under our belt, spanning across VIC, NSW, SA and ACT, we have embarked on two new retail ventures, with stores opening in Armadale's Kings Arcade and Geelong's Newtown Pakington Street in early December.
Our new Armadale store is now located at 2 Kingsway, Kings Arcade, and features all your Cable favourites, considered and casual summer pieces, to our renowned wool coats, jackets and cosy puffers, luxe beanies and scarves, as well as our signature 100% Australian Merino Wool and Cashmere Knitwear. You can also shop our capsule of Australian Made clothing.
Our Armadale store also carries the latest collection from our sister label, Purle, and new season accessories from Australian labels Murkani Jewellery, Reality Eyewear and Von Routte Sneakers.
CABLE Founder and Creative Director, Georgina Austin, said the choice to move Cable's flagship Armadale store in Beatty Avenue to High Street's stylish Kings Arcade was to create an elevated experience for the customer, where product could speak for itself, in a beautifully designed, converted warehouse.
'CABLE's retail history was founded in Beatty Avenue, Armadale. It was the first store I opened 12 years ago, so I knew I wanted to continue having a key store in the area. Kings Arcade is an emerging hotspot in Armadale, fast becoming a shopping precinct of curated and bespoke Australian brands. Located right next to Armadale train station, Kinds Arcade has a village and neighbourhood feel, with a culinary and fashion focus, featuring Albert's Wine Bar and Sydney's renowned Victor Churchill Butchers.
The new Melbourne store in Kings Arcade is a much larger space than we previously had, so it's perfect for creating the first ever CABLE CONCEPT STORE – where we can host in-store styling sessions and events, showcase our full collections, and give us the opportunity to launch Cable Home, Purle Accessories and other exciting diffusion lines coming soon."
Visit our new CABLE Armadale Concept Store at:
Kings Arcade, 2 Kingsway, Armadale 3143
T: 03 9087 6902
Trading Hours
Monday-Saturday: 10am-5pm
Sunday: Closed