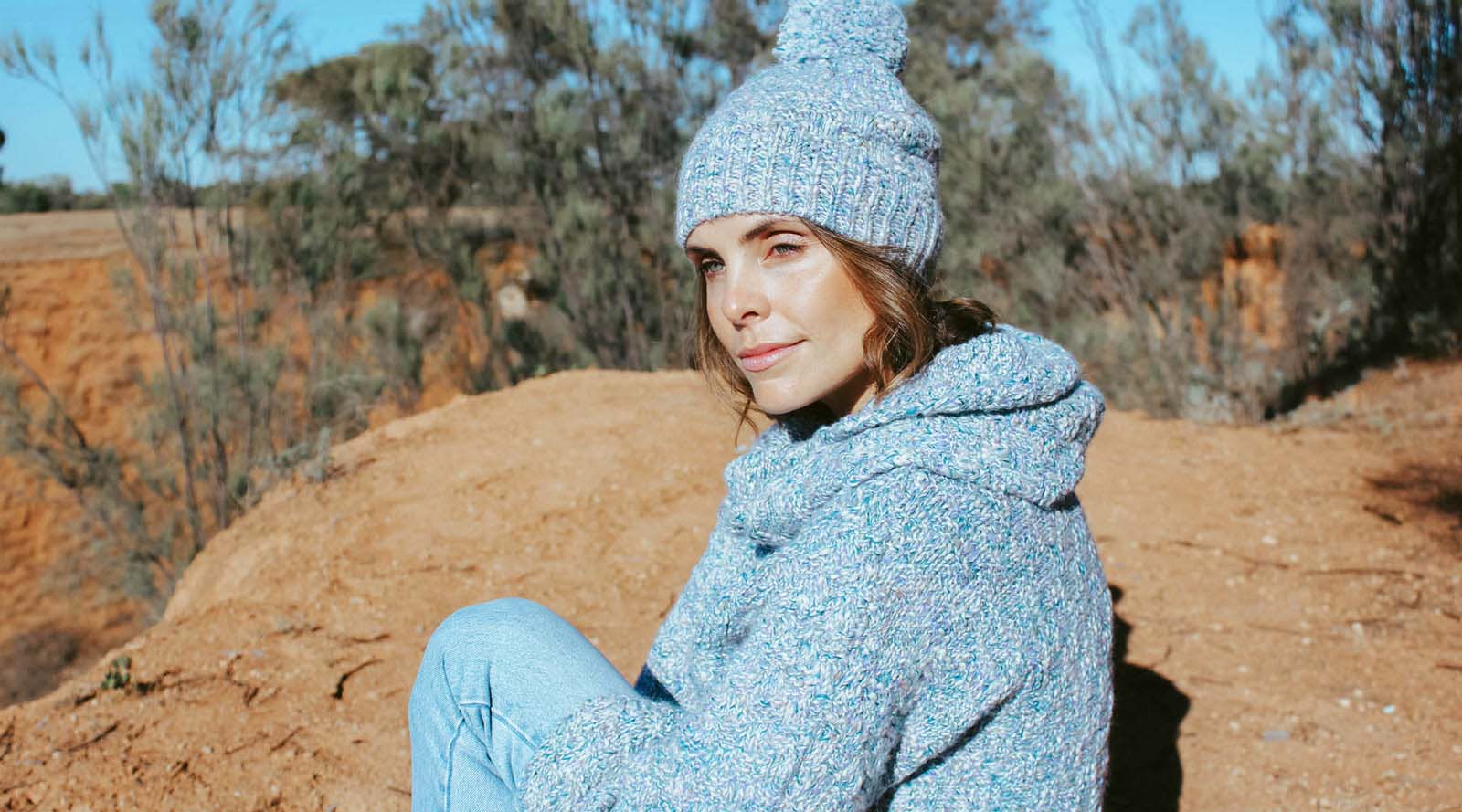 Purle is the brainchild of Cable's Creative Director, Georgina Austin, and sits as Cable's sister label. The brand launched in 2020 with a limited capsule collection of cosy winter accessories and layers.
Specialising in knitted cardigans, scarves, beanies and gloves, as well as luxe faux fur jackets, Purle allows you to experiment with different looks, mix and match colours and prints, and have fun with fashion - without breaking the bank.
Purle's latest collection is available to shop from CABLE online.
OUR TIPS ON HOW TO STYLE YOUR PURLE ACCESSORIES:
1. Keep It Simple
For an effortlessly stylish day look, pair your Purle pieces with a timeless
pant
, such as denim jeans or black pants. When comfort is key, your Purle
c

ardigans
and scarves instantly dress up a simple outfit of pants and a
t-shirt
, especially with the fun colour palette in the 2021 collection.
Purle's fashionable colours including
Sapphire Blue, Cinnamon Speck, Leopard Print and Basil Green will spice up a
ny
plain outfit with ease.
2. Colourful Co-Ords
This season, Purle has eight different colour/ fabric stories, each featuring a jumper or cardigan with a matching beanie, snood or gloves.
Each
Purle
piece stands alone to enhance an outfit and protect you from the wintery chill, but pairing them together can create a stylish, matching, colour
-
coordinated ensemble. Try the
Windsor Cowl Jumper
in
b
lush
m
arle paired with the
Windsor Fingerless Gloves
.
Add a fun and unique touch to any look with our range of colour block scarves, including our Checkers Scarf in
basil
and
pink
.
3. Back in Black
When it doubt,
add
your Purle layers
to
a
n
all-
black outfit. Black is a great base to build your accessories and
it
matches with every colour. Whether it is a black top, jumper or dress, your Purle accessories will be the perfect finishing touches to your outfit.
Our favourite pieces to pair over a black outfit are the
Brunswick Shrug Cardigan
,
Brunswick Snood
and
Brunswick Beanie
in Cinnamon Speck. The earthy tones of these chunky knit styles compliment a monochrome look.
4. Dress To Impress
Going out in winter can be difficult, especially when you are faced with choosing a glamorous outfit that will also help you brave the cold. Purle is here to give you style and warmth all in one - with our new Faux Fur Longline Teddy Coats. They are extremely soft and flatter the body with their mid-length and they come in fashionable shades of navy and mink.
5. Print Perfection
Add an eye-catching element to your outfit with a fun print. Let our Faux Fur Teddy Coat in pink leopard do the talking and really make a statement with its pink, brown and black animal print. The incredibly soft texture of our teddy coats is a brilliant fur alternative and does not compromise on softness nor quality.
6. Snuggle Up
Purle clothing and accessories are like a big warm hug. So, when your mood calls for it, why not cosy up with a fluffy Purle jumper and snood for ultimate comfort.
The Elwood story (featuring cardigans, jumpers, snoods and gloves) are so incredibly soft, you'll never want to take them off!
Purle accessories will be your go-to winter pieces, keeping you cosy day and night, whatever the occasion. With a range of colours and styles, you'll be able to find the perfect pieces to compliment any outfit.