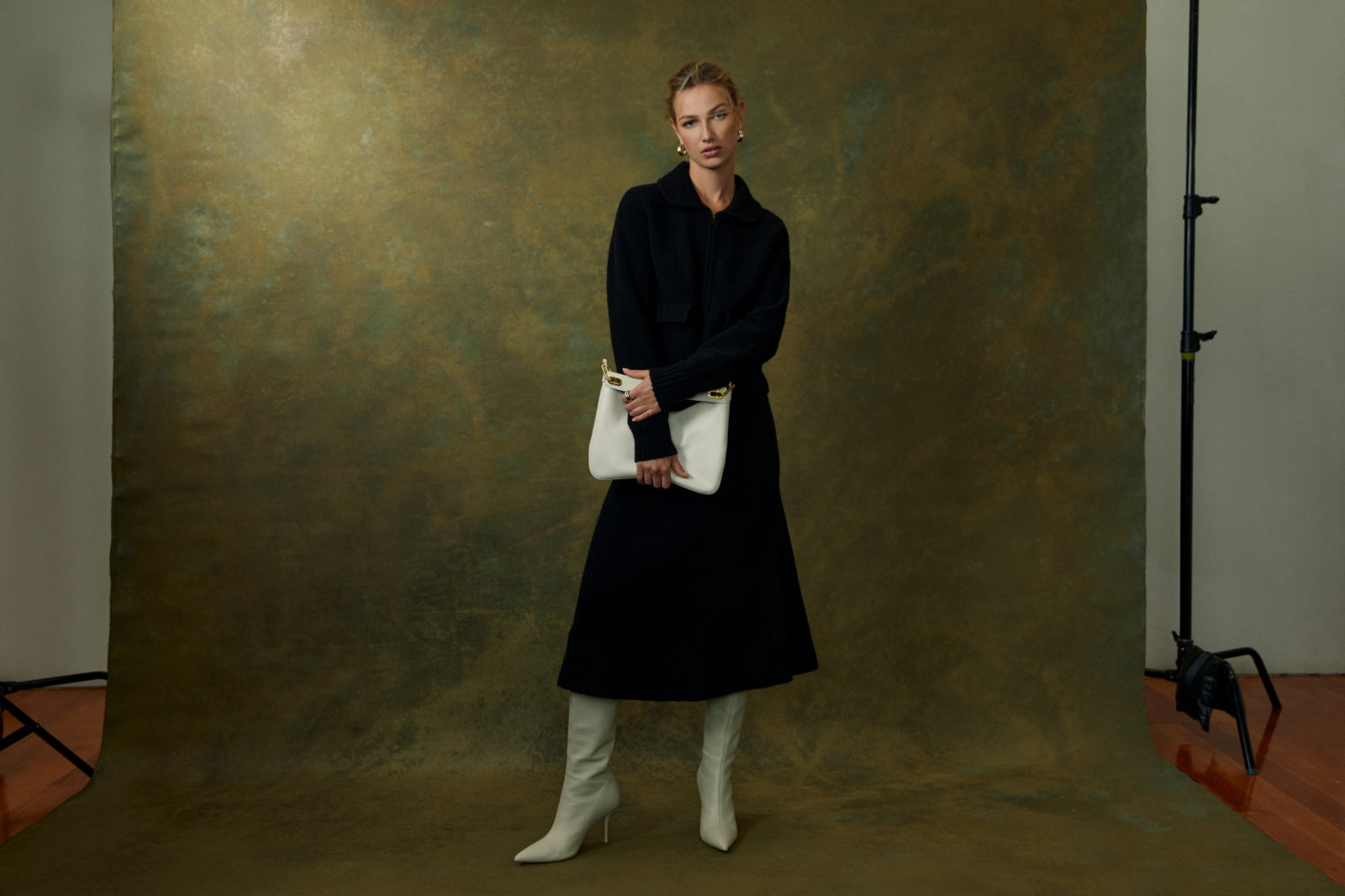 Mother's Day with the Cable Team
In celebration of Mother's Day coming up on May 14th, a few members of the Cable team got together to talk all things 'mums'!
We discussed what it means to be a mother, and what we love most about our own mums, grandmothers, aunts, and the special women in our lives.
To all the mums around the world - your hard work, love and dedication does not go unnoticed.
Mothers Day Gift Ideas
Mother's Day is around the corner and Cable Melbourne is your one-stop shop to truly spoil your Mum.
With ruby, blush and everything in-between, you can find the perfect colour scheme. Our latest winter collection embodies the beauty of the season, with stunning wheat-coloured cashmere to standout blush pink knitwear, find something to spoil every mum this Mother's Day
Australian Merino Wool Knits
Our 100% Australian Merino Wool range is warm and light, perfect for layering. From the Merino Pleated Dress in Black to the Sofia Merino cardigan, our merino wool is perfect for day-to-night wear to keep you feeling warm and stylish. You can layer it with the Nina Merino Crew, or the Claudia Merino Tee for added depth. Choose from muted tones to something more contrasting like cornflower blue and navy together.
Winter Layering
For more layering options, our luxurious 100% Pure Cashmere Tracksuits are available in charcoal grey and camel. For the finishing touch, our Pure Wool Travel Wraps (available in 3 colours) are a must-have for the cooler months and a signature piece to a travel outfit. For super cold days, add one of our cosy cashmere beanies for superb warmth and style.
Think Accessories
The Murkani jewellery range is the perfect accessory for the Mum who wants to add a little glam to her weekend wear. Ranging from rose gold tone, silver and gold tone, the Melbourne-based jewellery brand is sure to excite!
Luxe Detailing
This season, we are all about textures and layers. Our puffer range accompanies a jogger pant perfectly. Pair with our chunky knit Ingrid Knit or choose from one of our many available roll or crew-necked jumpers. Style with a pair of casual white sneakers or dress it up with a pair of flat boots or heels for a glamorous night look.
Mother's Day with the Cable Team
GEORGIE
Creative Director

"Being a mother of 2 has given me immense respect for my own mother and made me cherish the values and wisdom she instilled in me as a child.
"Work hard at your goals, be honest and grateful, and do what you want but think about the consequences" ... a favourite comment of hers as I walked out the door, particularly as a teenager. As mum's only child we have a connection like no other and all I could ever hope for is to have the same with my own children as they grow up. I feel very lucky and thankful having her in my life. She is an incredibly supportive and selfless woman that I love and admire very much."

KYLIE
Wholesale Sales Manager
"Whilst my mum has always been super special, it's really been since having my own children that I've realised her unwavering, extraordinary, unconditional love, support and dedication to my boys. I've loved watching their relationship evolve and change throughout their lives. My mum is such an important part of my children's world, for which I am extremely grateful.


When it comes to myself as a mum, I think having children is a gift in itself. Being a mum to 3 boys + a boy dog (my favourite child!) and a beautiful partner is not quite how I pictured my life, but now, I wouldn't have it any other way. They are all so different and our relationships are also unique. I love being a mum of boys that one minute I can be so cross with and the next they'll forgive me. Even if I'm not ready to forgive them they somehow make it ok and we work everything out in the end."
ANNA
Product Development/Production
"Being a mother is a constant learning process.
My girls are teaching me every single day, as I have learned from my own mother, about unconditional love and attachment. It's a strong bond.
I often imagine and feel this invisible thread between my daughters and myself. When my girls were little, this thread was quite short and secure but now as they are getting older and approaching teenage years and young adulthood the thread is getting much longer.
As long as my girls know that I am at the end of that thread, no matter what, when or where, then I believe that thread will never be broken."
ALLYCE
Planning Manager
"If I had to make a list of why my mum is special it would be a mile long, but a few things that stand out are her generosity and willingness to do everything she can for my brother and I to make us happy and successful. She is also a bit of a dork and thinks she has the best dance moves around, inevitably always putting a smile on our faces. I also think the little things she does for me are why she is just so special, like making sure I always have a batch of her famous sausages rolls in my freezer, just in case someone comes over and needs a treat.
The photo I am holding above was taken at my brother's wedding and represents three generations of strong women in our family. Growing up I spent a lot of time at my grandparents' house while my mum was working so being able to enjoy one another's company all together as adults is a cherished memory."


LAURA
Visual Merchandising Coordinator
"In my photo above, my Mum Jenny and my son Marlow enjoy a cookie & coffee at my Mum's local cafe. These moments of togetherness are so special, as my Mum and I live in different states. Even though we have distance to contend with, the bond between mother and child and now grandson endures, which really is the definition of family for us."
AMANDA
Marketing Coordinator
"My mum, Jen, is my rock. She is nicknamed 'The Oracle' because whatever question/ problem/ issue you have in life, she will have the answer and words of wisdom to guide you through. This goes for myself, my sister, and anyone else who comes to her for advice. Jen will know what to do.
She is the most intelligent, grounded and caring person I know, and I admire her so much.

My sister, Laura, is another mother I admire, look up to, and celebrate on Mother's Day. Her 2-year-old daughter Lucy means everything to me and I'm the proudest aunty ever. Her new 6-week-old son Oliver is so precious, and to see her with her beautiful, growing family warms my heart."

Draw inspiration for mother's day gifts from the beautiful pieces presented above that our team at Cable Melbourne is certain your mum would like to receive. Refresh your mum's wardrobe this autumn and winter season with your pick from our luxurious cashmere jumpers, wool coats, elegant blouses and pants collection. Say thank you by gifting your mum her new favourite necklace and luxuious wool wrap.